During October Lord Mayors and Mayors around the country tried their hand at being Big Issue vendors, hitting the streets to sell The Big Issue magazine to their local community.
The occasion was part of The Big Issue's Mayor Selling event, which teams Mayors with Big Issue vendors, and highlights the importance of local governments in helping Big Issue vendors connect to the community and reach potential new customers.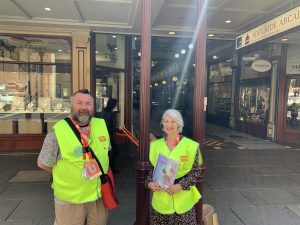 City of Adelaide Lord Mayor Sandy Verschoor with vendor Mark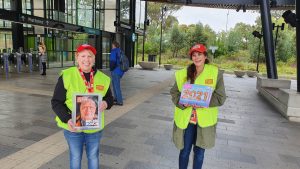 The Hills Shire Council Mayor Michelle Byrne with vendor Rachel
Having Mayors sell alongside the vendors helps to break down stereotypes of homelessness and disadvantage, and shows the community that vendors are approachable businesspeople who sell a great product and deserve support. 17 Mayors came out and all together sold 93 magazines and two calendars, an amazing achievement!
Congratulations to all leaders who took the time out to sell and meet our vendors. In these challenging times we appreciate your support. Thanks to the following Mayors and Council staff.
New South Wales
Lord Mayor Bob Dwyer, City of Paramatta
Deputy Lord Mayor Jess Scully, City of Sydney
Mayor Danny Said, Randwick City Council
Mayor Michelle Byrne, The Hills Shire Council
Mayor Loretta Baker, Maitland City Council
Mayor Mark Greenhill, Blue Mountains City Council
Mayor Paula Masselos, Waverley Council
Mayor Gail Giles-Gidney, Willoughby Council
South Australia
Lord Mayor Sandy Verschoor, City of Adelaide
Mayor Dr Heather Holmes-Ross, City of Mitcham
Mayor Amanda Wilson, City of Holdfast Bay
Mayor Anne Monceaux, City of Burnside
Deputy Mayor Geoff Eaton, City of Onkaparinga
Acting Mayor Nathan Daniell, Adelaide Hills Council
Mayor Claire Boan, City of Port Adelaide & Enfield
Mayor Robert Bria, City of Norwood Payneham & St Peters
Western Australia
Mayor Greg Milner, City of South Perth