We are an independent, not-for-profit organisation dedicated to supporting and creating work opportunities for people experiencing homelessness, marginalisation and disadvantage. Simply put, we help people help themselves.
We run social enterprises to create work opportunities for people who are unable to access mainstream work. These include The Big Issue magazine, the Women's Workforce and The Big Issue Classroom, as well as the Community Street Soccer Program.
People come to The Big Issue from a wide range of circumstances, including homelessness, long-term unemployment, intellectual and physical disability, mental illness, drug and alcohol dependency and family breakdown. Our programs provide low-barrier opportunities for people to earn a meaningful income, build their confidence and connect with their community and support networks.
More than 7,500 vendors have sold the magazine since 1996.
14 million magazines have been sold, generating $35 million in income for vendors.
Circulation of the magazine has increased from 7000 in 1996 to approximately 20,000 every fortnight.
Readership of the magazine has increased to 287,000
Research shows The Big Issue magazine generates a positive social return of $5.50 for every $1 invested in the enterprise, due to a reduced demand for social, health and justice services among sellers.
An independent 2016 report estimated the magazine saves the community approximately $25,000 per vendor, per year.
More than 10,500 people have participated in the Community Street Soccer Program since 2007.
According to an independent study every $1 invested in the Community Street Soccer Program generates a saving to the Australian community of $4.30 through a reduction in demand for social services including hospitals, welfare support, emergency services and correctional facilities. Based on the program's operating costs, the study estimated that Street Soccer saves society $7 million per year.
We proudly hosted the Melbourne 2008 Homeless World Cup, bringing together more than 50 national teams for a week of competition.
More than 190 women have been employed in Melbourne, Sydney, Adelaide and Perth to pack subscriptions and complete social procurement work.
More than 1,900 shifts have been held and 800,000 magazines have been packed for subscribers.
More than 200,000 students have taken part in workshops since the program launched in 2009.
53 guest speakers have been employed and have completed more than 8,000 speaking opportunities.
The idea for The Big Issue Australia was formed in 1993 when a group of prominent Australians came together to explore solutions to help address Australia's increasing number of people experiencing homelessness. They proposed a model based on the UK's successful Big Issue street magazine model. The first magazine was launched in Australia on the steps of Melbourne's Flinders Street Station on June 16, 1996.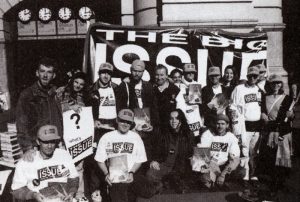 As the organisation and magazine grew, we began to create more social enterprises and programs that would positively impact more people experiencing homelessness, marginalisation and disadvantage. In 2007 we launched our Community Street Soccer Program as a way for people to connect and improve their health and wellbeing through the power of sport. In 2009 we began The Big Issue Classroom, teaching younger generations of the causes and impacts of homelessness and the power of community, and in 2010 we established our Women's Workforce to give women experiencing homelessness and disadvantage the opportunity to work packing subscriptions in a safe and supportive environment.
Board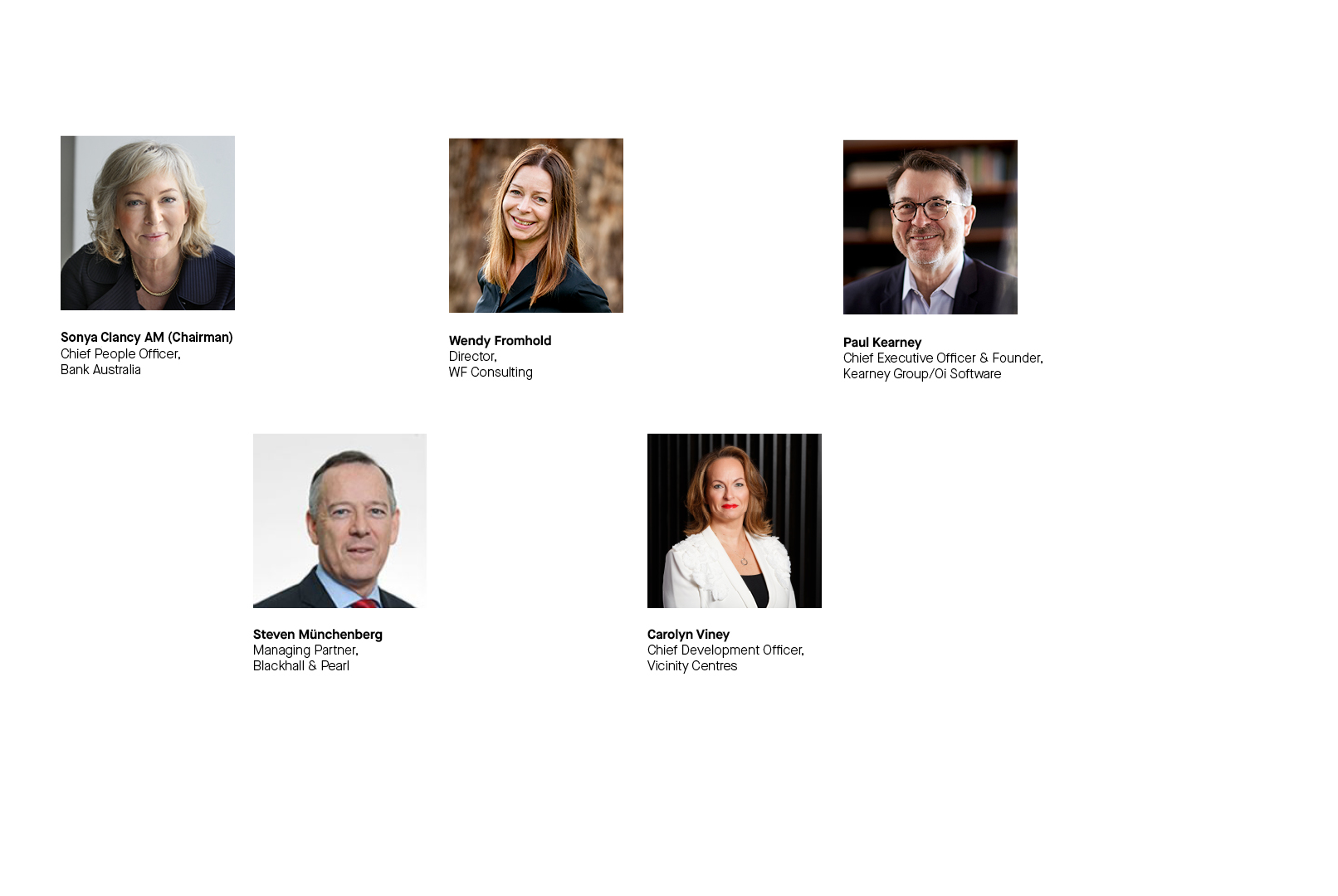 National Office
Steven Persson, Chief Executive Officer
Jon Whitehead, Chief Financial Officer
Simone Busija, Chief Marketing Officer
Jeremy Urquhart, National Operations Manager
Amy Hetherington, Editor
Advisory Network
Mike Baird AO, Chief Executive Officer, HammondCare
Simon Banks, Managing Director, Hawker Britton
Gillian Calvert AO, Deputy Chair, Life Without Barriers
Terry Campbell AO, Emeritus Chair, Goldman Sachs Australia
Sonya Clancy AM, Chief People Officer, Bank Australia
Peter Danks, Managing Director, Events & Facilities Group
Dunstan de Souza, Senior Partner, Colin Biggers & Paisley
David Evans, former Non-Executive Director, Village Roadshow
Annette Gallard, Group Chair, St George Community Housing
Lisa George, Global Head, Macquarie Group Foundation
Sally Herman, Non-Executive Director
Gavin Jackman, Corporate Affairs Senior Executive
Cheryl Kernot, Social Business Fellow, Centre for Social Impact, UNSW
Anna Le Masurier, Regional Head Australia, Macquarie Group Foundation
Andrew MacLeod, Chair, Griffin Law
Geoff Lloyd, former Chief Executive Officer, MLC
Simon McKeon AO, Chancellor, Monash University
Kris Neill, Managing Director, Kris Neill Consulting
Andrea Pearman, Chief Executive Officer, Inclusive Australia
Andrew Penn, Chief Executive Officer, Telstra
Nicholas Reece, Director Strategy, Policy & Projects, The University of Melbourne
Julie Rynski, Executive, Business Banking, Regional & Agribusiness, NAB
Ken Shipp, Director of Sport, SBS
Vivienne Skinner, Principal, Metropolis
Ian Smith AM, Managing Director, Bespoke Approach
Natasha Stott Despoja AO, Chair, Our Watch
Sheryl Weil, former Executive Director, Banking & Financial Services, Macquarie Group
Shemara Wikramanayake, Chief Executive Officer, Macquarie Group
Lisa Wilkinson AM, Journalist & Presenter
Melanie Willis, Non-Executive Director, Challenger Group Limited
Helen Willoughby, Consultant
Our Partners
Our social enterprises are generously supported by a range of corporate and community partners. These partnerships allow us to grow our social enterprises, ensuring their long-term success and sustainability. We would like to thank and acknowledge the following supporters:
Principal partners
Major partners
Media partners
AdStream
BeemIt
C2
Carat
Chocolate Studios
Realview
Res Publica
Roy Morgan
Town Square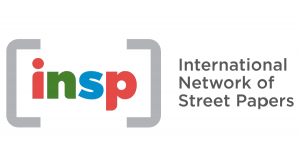 The Big Issue is a proud member of the International Network of Street Papers, which incorporates 110 street publications like The Big Issue in 35 countries.
Partnering with us
Partnering with The Big Issue is a unique way to make a direct impact on the lives of people experiencing homelessness, disadvantage and marginalisation. We offer our corporate partners a range of engaging and hands on experiences for employees to immerse in whilst supporting those most vulnerable in our community. We welcome the opportunity to have you involve your organisation in helping to empower our program participants.
Partnering with The Big Issue provides the following benefits:
Branding and alignment with an innovative, progressive and caring national organisation that directly changes lives

Opportunities to creatively engage your staff and customers in a real life social improvement program

Strategic value and social and community impact – our programs deliver tangible social outcomes that positively impact individuals, families and communities, and are proven as an effective change agent locally and internationally. 
Q: How does The Big Issue model work?
A: The Big Issue editorial team make a quality magazine each fortnight, which is made available for vendors to buy at $4.50 per magazine. Vendors then sell the magazine to customers for $9 each, earning a meaningful income. There is no minimum number of magazines vendors have to buy, and any unsold magazines can be exchanged or refunded. Check out How it Works for more information.
Q: How can I purchase The Big Issue?
A: Vendors now have the option to accept digital payments via tap-and-go or mobile app Beem It, as well as cash. Though not all vendors have gone digital, chances are many vendors will gladly accept your card or phone payment. Our Ways to Pay page has more information on how you can pay.
Q: Where can I buy The Big Issue?
A: We are in all states and territories except for NT and TAS. Vendors sell predominately in major cities, but we also do have regional vendors. Check out our vendor page for more specific locations.
Q: What do vendors get out of it?
By selling The Big Issue, vendors earn a meaningful income and build strong connections with their community. Money earned from magazine sales goes straight into vendors' pockets, earning $4.50 from each sale. But vendors also value the connections to their customers as they become regular fixtures of the community. Selling the magazine allows vendors to connect to others, develop their confidence and positively change their lives.
Q: Isn't it better to just give vendors the money and not take the magazine?
A: Not taking the magazine when you've paid for it is not what The Big Issue is about. Vendors are proudly working, selling a product, so paying them for their wares helps to empower them as contributing members of society. Also, this is a fantastic magazine that a team of editors, writers and designers work really hard on every fortnight. So be sure to take your copy, it's a great read.
"Sometimes people say, oh I'll just give you a donation. A donation may help, but it's not selling a mag. The magazine does not just happen. And we're not all homeless. We are not out there begging. We're working. I feel very strongly about this. I might take it too seriously, but we go out to work, we own the fact that we're doing it." – Melbourne vendor, David.
Q: What happens to the magazines vendors can't sell? Are they at a financial disadvantage?
A: There is no minimum number of magazines a vendor needs to purchase. When a vendor joins The Big Issue, we provide a few free magazines to get them started. Unsold magazines can be returned for a refund or traded for the new edition if they prefer.
Q: What other programs do you have?
A: We have our Women's Workforce, Community Street Soccer Program and Classroom workshops. All of these programs help people experiencing homelessness and disadvantage earn a meaningful income, connect with their communities and improve their wellbeing.