What a year, hey? While 2021 didn't exactly go as planned, a few good – even great – things did happen (we promise!). In this summer edition, we bring you 21 feelgood stories from the last 12 months. Our arts editors dive into the best books, binges, films and music that defined 2021. Plus, The Big Quiz is back to test your 2021 knowledge, Big Ish style.
"I'd like to begin the year on an optimistic note. January, after all, is traditionally about hopes, dreams and reinvention," writes Fiona Scott-Norman in her column. "But of late my brain has rewired to view 31 December as less of an opportunity, more of an ambush. 'Happy New Y-aaaargh!' What is it going to be, 2022? Fire, flood, pestilence? Coronavirus strains named after herbal teas because they've run out of Greek letters?"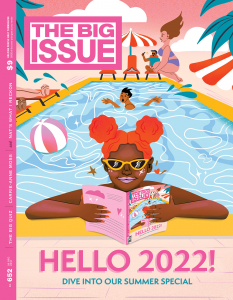 More highlights in this long, hot summer edition:
Carrie-Anne Moss talks Matrix, martial arts moves and why you won't find her in the metaverse.
Nat's What I Reckon serves up a "good time" and a great dish, sharing his recipe for Wake and Don't Bake Orange and Lemon Cheesecake in his irreverent style.
From the mushrooms being trained to eat trash to heroic dogs and a global boost in goodwill, we give you 21 of the best news stories of 2021!
Photographer Gabriele Galimberti takes us to our happy place in The Big Picture.
Our arts eds round up the best films, binges, books and music from 2021 – it's your summer, sorted.
Grab your mates, it's time for our annual Big Quiz! How closely have you been paying attention to The Big Ish stories of 2021?