"I'm on JobSeeker but I'm also studying, so after rent and school and with prices going up, I don't have much money left. I get a bit of food this way," says Lisa, who accesses Foodbank's grocery services so that she and her son have enough to eat. Last year, four million Australians – including 1.2 million children – went hungry, unable to put food on the table. In this edition, we look at the big issue of food insecurity.
When you're sleeping rough, sourcing food and eating can feel like a chore, says William: "It's not an enjoyable thing. Just get it in your stomach and get out."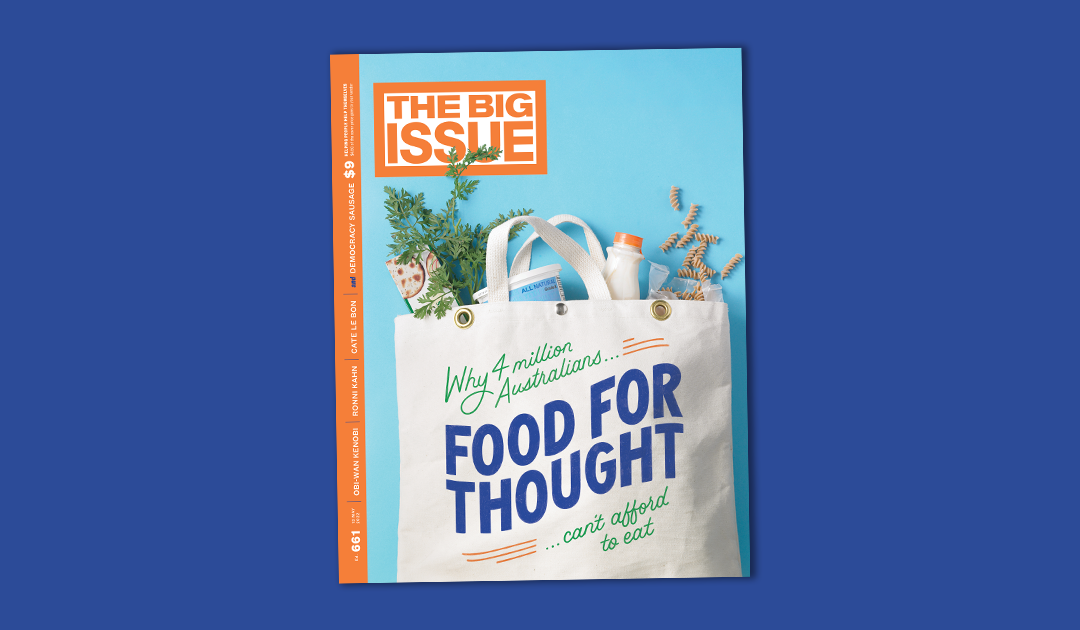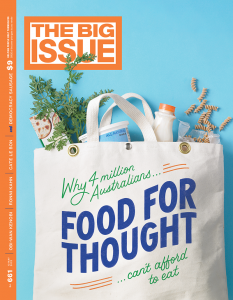 Also in this edition:
We visit Foodbank to discover the work being done to support Australians experiencing food insecurity.
What does food insecurity look like? Vendors from a fellow street paper in the US reveal what they eat in a day, often relying on food banks, convenience stores and fast-food options.
Writer Anita Glass share her realities of living below the poverty line at 77, explaining how survival is a full-time preoccupation.
In her Letter to My Younger Self, Ronni Kahn, founder and CEO of OzHarvest, talks about finding her voice and her purpose.
Rising star Moses Ingram takes us inside the much-anticipated new Star Wars series Obi-Wan Kenobi.
The cast of Downton Abbey give us the lowdown on their new film, A New Era.
Author Steve Toltz tells us about his new novel, which tackles the afterlife, social media addiction and a pandemic, all while being funny as hell.
Welsh musician Cate Le Bon reveals her new album was inspired by a portrait painting, the ancient city of Pompeii and picking up the bass guitar.
We look at the history of the democracy sausage – and where you can get your special snag this election day.
Plus, Eloise Head (aka @Fitwaffle) shares her simple and easy recipe for Apple Crumble Mug Cake: five ingredients, one happy tummy.