The 2023 Fiction Edition is here! There are 12 great short stories: from the tale of a cat that brings good fortune to a haunting fishing expedition, from a young girl's quest for Taylor Swift tickets, to a daring aged-care escape and much more. Happy reading!
Now in its 19th year, this special edition features stories from some of Australia's best writers, including Stella Prize-nominated author Paige Clark, bestselling writer Trent Dalton, novelist Nina Wan, and award-winning writer Zoya Patel. Plus, we bring you reads from eight new talents whose tales were selected from more than 681 submissions – judged by former Big Issue books editor and broadcaster Melissa Fulton, and writer and critic Claire Cao. All of the stories are brilliantly brought to life by Melbourne-based artists Lynn Bremner's gorgeous illustrations.
There's an extra 16 pages, made possible thanks to the generous support of the Copyright Agency's Cultural Fund, to showcase even more writing, and give you even more time to enjoy that simple pleasure of discovering a good read and exciting new talent.
Stories by
A.R. Eldridge             Nina Wan
Amy St Lawrence      Paige Clark
Chris Ames                Robert J. Boland
Hannah Cockroft       Scott Limbrick
Josephine Sarvaas    Trent Dalton
Michelle See-Tho      Zoya Patel
Illustrations by
Lynn Bremner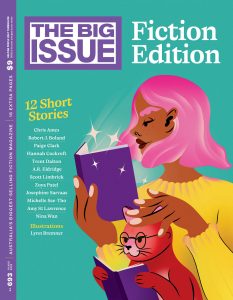 Fiction Edition 2023
A.R. Eldridge
A.R. Eldridge is a writer from Sydney's inner west. He has released a short story collection, Golden Hour, and has contributed to Aurealis Award-nominated anthology, The New Mythic. A lifetime spent in Sydney has inspired him to write everything witty and weird about urban Australiana.
Amy St Lawrence
Amy St Lawrence lives and works on Gundungurra and Dharug Country in the Blue Mountains, NSW. She won Varuna's 2019 Mick Dark Flagship Fellowship for her novella and story collection in progress, and was shortlisted for the 2023 Furphy Literary Award. She is a mother and freshwater science officer.
Chris Ames
Chris Ames is an American writer and Australian resident. His work has been featured in New Australian Fiction, Electric Literature, The Believer, The Rumpus and elsewhere. He lives in Melbourne with his wife and son.
Hannah Cockroft
Hannah Cockroft is a Perth-based author and playwright. Her debut play Talkback opened to sold-out audiences at the 2020 Fringe World Festival. Her flash fiction has been published in anthologies Pulped Fiction from Spineless Wonders, and Twice Not Shy and Three Can Keep a Secret from Night Parrot Press.
Josephine Sarvaas
Josephine Sarvaas is an English teacher from Sydney. Her work has appeared in The West Australian, A Public Space, NYC Midnight, ROOM Magazine, Factor Four Magazine, Tangled Locks Journal, Gertrude and more, and is forthcoming in Aurealis. She was the runner-up of the 2022 Best Australian Yarn.
Michelle See-Tho
Michelle See-Tho is a freelance writer. Her work has appeared in Kill Your Darlings, Meanjin, Overland and more. She is the winner of the Penguin Literary Prize, with her first novel to be published in 2024.
Nina Wan
Nina Wan is a writer based in Melbourne. She is a former journalist and editor for The Australian Financial Review, where she covered financial markets and corporate intrigue. Nina's novel, The Albatross, was shortlisted for the 2022 Victorian Premier's Literary Award for an Unpublished Manuscript.
Paige Clark
Paige Clark is a writer, researcher and teacher. Her first book of fiction, She Is Haunted, was shortlisted for the Readings Prize and longlisted for the Stella Prize.
Robert J. Boland
Robert J. Boland lives in Sydney with his lovely wife and children. He teaches his students history and how to deal with sarcasm, loves writing fantasy and runs a moderately successful satirical Twitter account. He won the Australian Writers' Centre Furious Fiction Award in June 2021.
Scott Limbrick
Scott Limbrick is a writer based in Naarm/Melbourne. His fiction has appeared in Electric Literature, Griffith Review, Debris Magazine, Westerly, The Furphy Anthology, The Suburban Review, Kill Your Darlings' New Australian Fiction and elsewhere. His collection was shortlisted for the Richell Prize and he is a 2023 Felix Meyer Scholar.
Trent Dalton
Trent Dalton is a two-time Walkley Award-winning journalist and the international bestselling author of Boy Swallows Universe, All Our Shimmering Skies and Love Stories. His books have sold more than 1.5 million copies in Australia alone. His latest novel, Lola in the Mirror, is out 4 October.
Zoya Patel
Zoya Patel is the author of No Country Woman (Hachette, 2018), and Once a Stranger (Hachette, 2023). She is co-host of the Margin Notes podcast alongside Yen Eriksen. Zoya is a columnist for The RiotACT, and regular books critic and writer for The Guardian, Canberra Times, Refinery29 and more. Zoya has won numerous awards for her writing and editing, and was a 2020 judge for the Stella Prize, and was the chair of the 2021 Stella Prize judging panel. She is currently completing a Master of Fine Arts with New York University.
Lynn Bremner
Lynn Bremner is a Scottish illustrator based in Melbourne, Australia. She illustrates bold and colourful images with strong characters, intriguing colour palettes and dynamic compositions and loves to use her fun illustrations as a way to spread positivity and kindness. Lynn regularly works across packaging, murals, editorial and book illustration projects.