Australians love our chooks. They're the nation's fourth most popular pet, after all! And while we've been cooped up during COVID, there has been a boom in backyard chickens not seen since the 1950s.In this edition, resident chicken eggspert Fiona Scott-Norman speaks to fellow chicken owners who discover a movement that's both sustainable and soul-affirming.
"Animals in general, but definitely chickens, have been massively helpful to people's wellbeing through lockdown and the pandemic. A tremendously positive impact on people's states of mind… Chooks give you someone to chat to and get out of bed for."
Jessamy Miller, assistant editor of Australian Poultry magazine.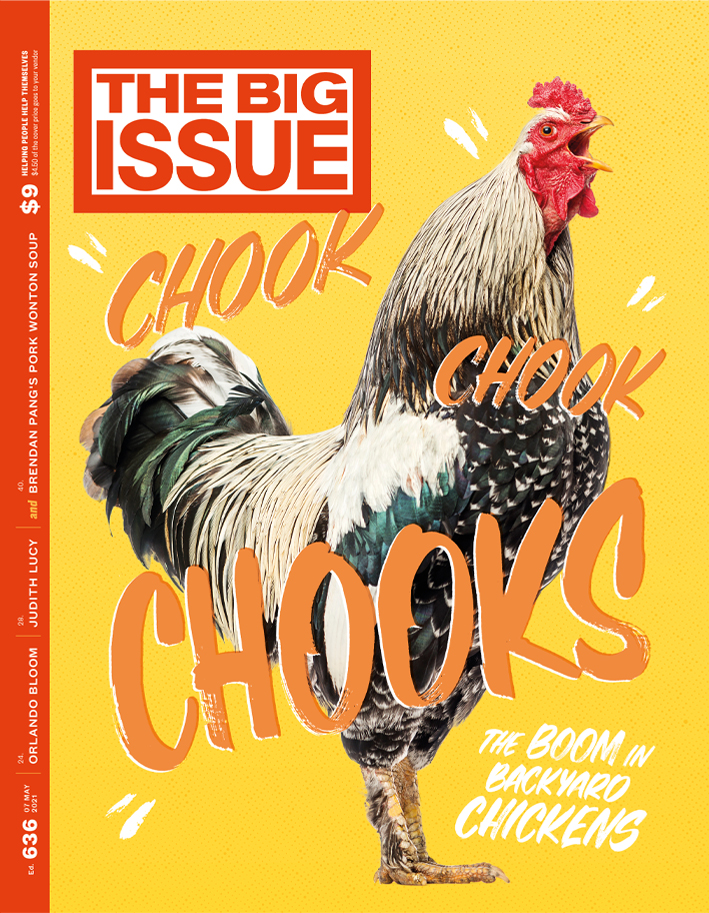 Also in this edition
Actor Orlando Bloom talks about leaving home at 16, his struggle with dyslexia and the heartbreaking death of his best mate Mighty in his Letter to My Younger Self.
Comedian and author Judith Lucy tells us she's embraced self-care, doubled down on her career and called off her quest for Mr Right.
Journalist and broadcaster Namila Benson tells us all about her new weekly ABC show Art Works, which focuses a more inclusive lens on the art world.
In The Big Picture, we visit Lefty's Place, a refuge for chickens rescued from the commercial egg industry.
Writer Rose Anderson reveals the things customers really get up to between the aisles in her bookshop.
Danish band Iceage might be labelled punks, but as frontman Elias Bender Rønnenfelt explains, their use of violins, horns and a gospel choir is busting boundaries.
This Mother's Day, writer Zoe Deleuil pens thanks to all the mothers and mother hens – and those who find the day tough, too.