Vendor travel guides provide street secrets revealed by the people who know them best. Let vendor Trevor take you on a journey through the Blue Mountains.
My name is Trevor, and I've been selling The Big Issue since 2005. I've been asked to write a guide about Katoomba, where I sell the magazine. I hope it will make you want to come and visit and explore my neck of the Blue Mountains.
1. Katoomba
Katoomba's a two-hour train ride from Sydney. Wear a good pair of walking shoes and bring an extra layer of clothing. Katoomba Street is the main street. There are lots of great shops to browse and delightful cafes. Perhaps treat yourself to a fancy high tea at the heritage-listed Carrington Hotel on Sundays. Jump on a tour bus (including double-deckers) and explore Katoomba – hopping off and on at your leisure. Must see: Echo Point and the Three Sisters with stunning views over Jamison Valley. At Scenic World you can ride the Cableway or the Railway (the steepest railway in the world), or the Skyway across the valley, high above.
2. Medlow Bath
The next train stop on from Katoomba. This little village has the grand Hydro Majestic Hotel to visit/stay/dine – you could spend hours walking around. There are fabulous views across Megalong Valley. And there's Synonymous Cafe, where you can get a mean coffee!
3. Blackheath
Next stop is Blackheath, a fabulous place to walk and explore. Browse the eclectic shops. Drop in to one of the many great cafes (the Altitude, Wattle, Anonymous or Victory, just to name a few!). Visit Govetts Leap Lookout or Evans Lookout with magnificent views over the Grose Valley and the Grand Canyon. There are loads of walking trails to explore. Take a leisurely stroll through the Campbell Rhododendron Gardens.
4. Mount Victoria
This is where I live – the village at the top of the Blue Mountains. Hop off the train at Mount Victoria Station, which is worth a look around. There's the museum behind the station ($5 fee, open on weekends). Take a stroll up Station Street, there's the Victoria and Albert Guesthouse and Piccolo Cafe for great eats and coffee. Next door, the gallery sells all sorts of antiques. Vanessa's Petalura Eatery offers delicious meals. Around the corner is Mount Vic Flicks, which has great home‑baked treats and hot soup in winter. There's the Mount Vic and Me shop (with the famous Blue Mountains socks), run by talented graphic designer Kara. Plus the general store run by Ronnie and Noelene. There are many lookout and walking tracks: Mount York Lookout gives panoramic views over Hartley Valley; catch stunning views at Sunset Rock Lookout in Beaufort Avenue; Mount Piddington provides views over Kanimbla Valley. Or stroll in Memorial Park.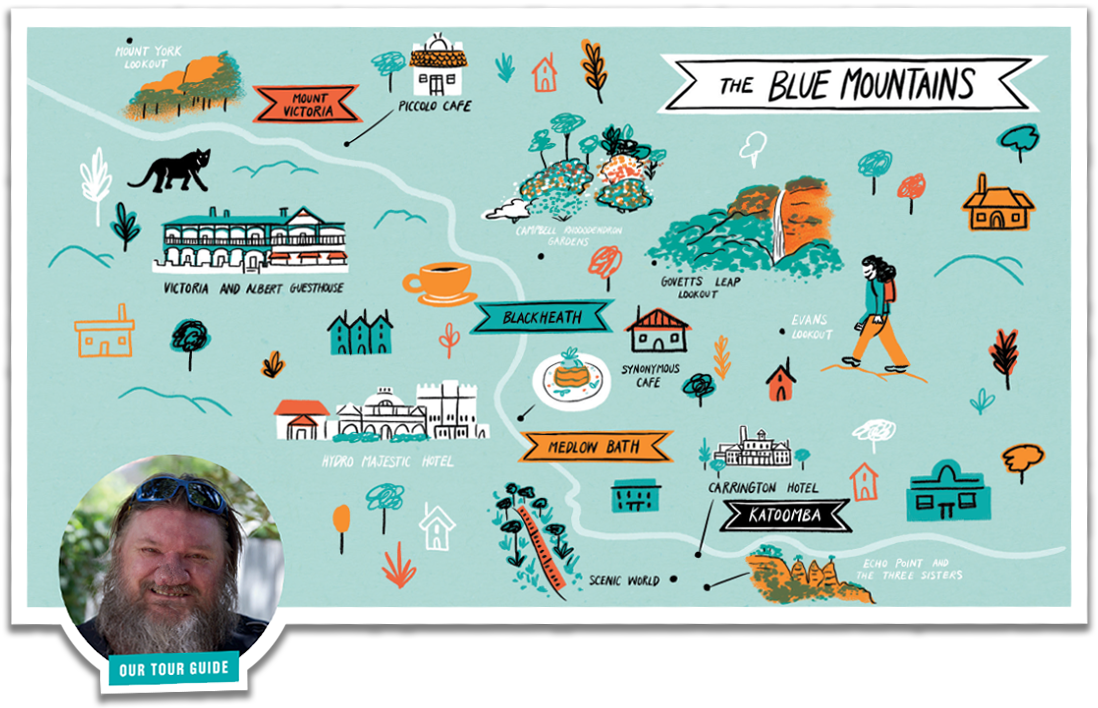 Trevor sells The Big Issue in Katoomba, NSW.
Ilustrustration by Daniel Gray Barnett.
Vendor photo by Peter Holcroft.