Christmas in Australia can be hot. Real hot. And my family's home in Glenluce, Victoria, is definitely no exception. As much as we've all grown up watching Christmas movie classics with snow-covered towns, the fact is that cooking indoors all day with ovens raging and every burner bubbling away is just not practical.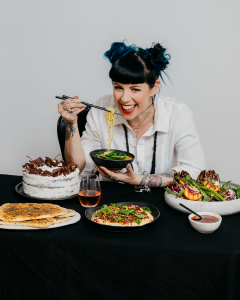 In my family, Christmas time is spent outside. While Christmas Day is generally a very traditional spread, Boxing Day is where we get more creative. We light the barbecue and woodfire oven, and freshen up the menu. This salad has become a family staple. There's just no better combination than spending a lazy day outside with all the family, and cooking at a slower pace.
While festive cooking traditions are important, the way my family eats has quickly changed, with almost half of them going plant-based in recent years. So, it's good to keep things interesting by introducing a cheeky new dish here and there. A simple way to freshen up your Christmas menu is to add some interesting sides to go along with the main event. And you never know, that new dish may just become family tradition for future generations.
My recipes are written for everyone. I want people of all skill levels and on any budget to be able to create beautiful and delish food. Big bold flavours and dishes that most plant-based eaters might think can no longer be on the menu. Showing people that with a few simple ingredient swaps, both family classics and modern flavours are easily achieved. There's no need to go without the things you love just because you don't eat meat.
So for something different this Christmas, throw another peach on the barbie. Grandma might think you've lost the plot, but I bet she'll be going in for seconds.
Radicchio, Peach and Asparagus Salad
Ingredients
Serves 4-6
2 bunches asparagus (about 12 large spears), woody ends trimmed, halved
Extra-virgin olive oil, for drizzling
½ radicchio, core removed, cut into 3 wedges
4 yellow or white peaches, halved, stones removed
1 handful mint leaves
1 handful basil leaves
Dressing
125ml (½ cup) extra-virgin olive oil
Juice of 1 large lemon
½ shallot, finely diced
1 teaspoon Dijon mustard
Method
Heat a chargrill pan or barbecue grill plate until smoking hot. Drizzle the asparagus with olive oil and season with salt and pepper. Grill until char lines develop, then transfer to a bowl. Repeat with the radicchio, then add to the bowl along with the asparagus.
Place the peach halves on the grill and turn often until char marks appear on all sides. Peel off the skins if you like, then tear the peaches into bite-sized chunks or cut into quarters and add to the bowl.
To make the dressing, place all the ingredients in a jar, season with salt and pepper and shake well to combine.
Add the mint and basil leaves to the bowl and dress the salad with as much or as little dressing as you like. I prefer my salads heavily dressed. Any leftover dressing will keep in the fridge for up to a week.
Vegan With Bite is the latest cookbook by Shannon Martinez.
Photos by Nikki To.