I grew up on a family farm called Woodstock in the Southern Riverina of New South Wales, where my dad had been raised. Many of my cherished childhood memories have a direct connection to food on this farm. Family gatherings involved delicious food and each aunt had her specialty. Our kitchen had a large wooden table in the centre of the room, and I was always amazed how many bodies could be squished around it. We ate most of our meals here and loved the food and conversation.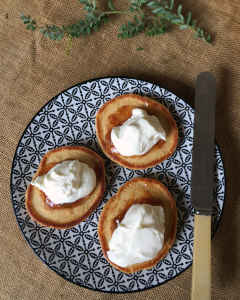 Mum is a good cook and always had the biscuit tins full and ready for unexpected guests invited in for a cuppa. Morning and afternoon tea were important rituals and it is fortunate that farm work helped to burn off some of these sweet breaks. We loved Anzacs, yo‑yos, shortbread, Afghans and chocolate slice to name a few.
But, on a winter's day, I loved pikelets. We would get home from school, cold and hungry after running down our dirt track from the bus stop, where we'd be greeted with warm Milos and Mum making pikelets. I remember Mum cooking the pikelet batter directly on the hot plate of the Everhot wood stove. When the batter bubbled, she would flip the pikelets over and place them on a tea towel when they were done. We ate them dripping with butter and golden syrup as quickly as she made them.
I now live on this family farm with my husband, and we make pikelets with our children and grandchildren. The same table sits in the centre of the kitchen. We make our pikelets with stoneground wheat milled from organic grain grown on the farm. The pikelets still warm us all, and there is something special about this continued sharing of food with family and friends around the kitchen table.
Pikelets
Makes 24
2 cups flour
pinch of salt
3 teaspoons cream of tartar
2 teaspoons bicarbonate of soda
1 tablespoon sugar
2 eggs, plus enough milk to make up to 2 cups
Butter to grease the pan
Method
Combine dry ingredients. Make a well in the centre, add milk and eggs. Gradually blend in flour with a wooden spoon. Then beat with a wooden spoon until smooth, and air bubbles form. Leave to rest for 30 minutes.
Cook spoonfuls of batter in a hot pan, greased with butter. Turn when bubbles appear on surface. Remove from pan when cooked, and place on a wire rack covered with a tea towel.
Serve warm with butter and your favourite topping, or cold with jam and whipped cream.
TIP: We use wholegrain Rosella (wheat) Woodstock flour in this recipe and the pikelets are light and full of flavour.
Jennifer Congdon's cookbook Woodstock: Farm, Food and Family is available on her website.