I have a big family. There are steps, halves, de factos and in-laws all masquerading (happily) as immediates. It's what happens when hippy-ish parents separate but consciously uncouple (and remarry/re-couple) before Gwyneth and Chris made it a thing.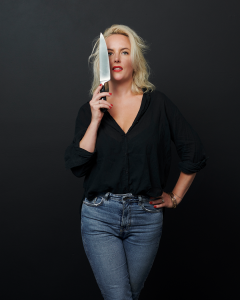 Not everyone experiences a family breakdown positively but somehow, we managed, and I feel lucky to have all the extensions I do. It's hard to explain the intricacies sometimes, but for us, it just means more people on your side.
My brother is from another mother. These are his thighs. Not hers. And actually they're chickens' thighs, but his recipe. He made this when we had a weekend away up north at a sleepy little surf town and reconnected with an arm of our family that has the wit and energy to make you cry with laughter. You know, the laughter that comes over you and tears flood down your face.
It was also a special trip for my late dad, who reconnected with his now passed sister after many years apart. They just grinned ridiculously at each other and held hands so tight their knuckles went white. It was pretty emotional and lovely.
Sometime in the afternoon between beers, naked toddler sprinkler dashing and snoozes, the grill was fired up. Sticky marinated thighs are grilled until lovely and charry (it's almost advisable to do this level of sticky grilling on a holiday barbecue instead of your own), then sliced on a board of fresh herbs and given a huge squeeze of caramelised lime over the top.
Great with rice, in a wrap or plucked straight from the leftovers plate in the fridge. It's one of those recipes you can make for four people or 40, early or late, for now or tomorrow. Or just because it's a summer holiday – and that means the barbecue must go on.
My Brother from Another Mother's Thighs
Ingredients
Serves 4
½ cup sweet chilli sauce
3 tablespoons soy sauce
2 tablespoons sesame oil
1kg chicken thigh fillets, excess fat removed
2 limes, halved
1 bunch basil, leaves picked
1 bunch coriander, leaves picked
Optional ingredients
Beer
Wraps
A laughter-filled family reunion
Method
Combine the chilli sauce, soy and sesame oil in a large bowl. Add the chicken and turn to coat, then leave to marinate for 30 minutes.
Heat a large chargrill pan over high heat, or the grill plate on a barbecue. Add the chicken and grill for 5 minutes on each side until cooked through with excellent char lines.
During the last 5 minutes or so, add the lime halves, cut-side down, and let them soften and heat through.
Roughly chop the herbs on a bread board.
Arrange the chicken on the herbs and allow to rest briefly, heating and slightly wilting the herbs.
Carve the chicken into fat slices and serve with the charred limes.
TIP! Take my advice and don't cook this on your own barbecue. Wait till you book an Airbnb and sear the candy marinade onto that one instead.
Every Night of the Week by Lucy Tweed is out now.
This article first appeared in The Big Issue Ed#644.