One of my all-time favourite scents is a heavily spiced hot cross bun wafting through the kitchen. It reminds me of school holidays, getting the family together and the traditional, abrupt wake-up call from the fire brigade truck collecting donations for the Good Friday Appeal. Suburban kids with a penchant for sleep-ins will be acutely familiar.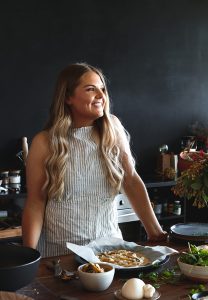 When I first started having digestive issues in my early twenties, buying a gluten-free, fructose-friendly hot cross bun was out of the question. Determined to keep that glorious scent (and the bun) in my life, I set about making my own.
These buns are gluten-free, egg‑free, dairy-free and vegan. They're also fructose friendly, using chocolate and fruit peel instead of currants and raisins. They are heavily spiced without overdoing it, bringing back memories of Easter egg hunts and unbridled enthusiasm for hosting the family (because hosting means leftovers).
The buns are held together with psyllium husk, a magical ingredient that binds gluten-free baked goods together as gluten normally would.
The flours involved are buckwheat flour and brown rice flour. Rice flour often gets a bad rap for having a strong taste and sandy consistency, but the stuff sold at bulk food stores is fresher and more finely milled.
To any suburban kid bemoaning the wake up this year – you'll miss it when it's gone. Plus, more time for hot cross buns.
Hot Cross Buns
Ingredients
Makes 8-9 buns
60ml (¼ cup) FODMAP-friendly plant-based milk of choice, warm
1 teaspoon sugar (any type)
7.5g (1 sachet) dried yeast
160g (1 cup) fine brown rice flour
120g (¾ cup) buckwheat flour
1½ tablespoons ground cinnamon
1 tablespoon ground nutmeg
150g light or dark brown sugar
20g psyllium husk
Finely grated zest of 1 orange
125ml (½ cup) olive or vegetable oil
500ml (2 cups) water
2 tablespoons good quality dried peel
2 tablespoons dairy-free chocolate chips
Few sprigs of finely chopped rosemary (optional)
For the crosses
1 tablespoon tapioca flour
2 teaspoons buckwheat flour
½ teaspoon oil of choice
Water, as needed to form a thick but flowing paste
For the glaze
Pure maple syrup or marmalade, melted
Method
The night before, place the warm milk and sugar in a small bowl and whisk to combine. Sprinkle over the yeast and set aside for 10 minutes, until the mixture is bubbling and foamy. If you have no action after 10 minutes, start again with new yeast.
Place flours, spices, brown sugar, psyllium and orange zest in a large bowl and whisk to combine. Add the activated yeast mixture, oil and water, whisking until smooth. Don't panic at how wet the dough looks – the psyllium husk will firm it up overnight. Cover and refrigerate overnight.
The next morning, the dough should look spongy and be borderline wet. Stir in the dried peel, chocolate chips and, if using, the rosemary. Using oiled hands, divide mixture into 8 or 9 portions and quickly roll into balls. Place buns in a 20 x 30cm baking dish, lightly greased or lined, or on a lined baking tray. Buns baked on a tray will lose more shape, but still taste delicious. Cover and leave to prove in a warm draught-free place for 1 hour, or until they have tangibly risen and feel light and puffy to the touch.
Preheat oven to 180°C. To make the crosses, combine flours and oil in a small bowl. Add enough water to make a thick but flowing paste. Transfer mixture to a piping bag. Pipe crosses onto the buns using even pressure and motion. I go for the "homemade" look.
Bake buns for 25-30 minutes, or until lightly browned and baked through. Remove from oven and glaze with maple syrup or marmalade while still hot. Allow to cool for 10-15 minutes before eating.
Intolerance-Friendly Kitchen by Georgia Mcdermott is out now.