As we approach the New Year, we take a moment to appreciate the connections that got us through what was a tough year for many. The Big Issue editor Amy Hetherington shares how much community means to our vendors – and how much they mean to their communities.
It's quiet on the streets and laneways of Melbourne's CBD, but Gamal is there on his regular pitch. He waves. We elbow‑bump hello. It's been weeks since he's been able to sell The Big Issue, due to lockdown.
Usually buzzing with outdoor diners, shoppers and coffee-sippers, some of the cafes and restaurants on Degraves Street remain shuttered; the majority of the city's workers are still at home.
"This spot, this area, I've been working here for about 12 years," says Gamal. "Many people here know me; not all, but most of them."
He's not wrong! As Gamal smiles for the camera for this very calendar, a masked man walks by: "Hello Gamal! You're looking well." Gamal gives him a double thumbs up.
A few moments later, as we walk up Centre Place past a cafe, a woman calls out, "Gamal! It's so lovely to see you!" At that, a man runs out of the kitchen to yell out: "Gamal! I love you!"
Later, with the photo shoot over, Gamal stops by for a proper catch-up with them. They make him a sweetened hot milk – his beverage of choice. This is his community. This is the magic, the heart, of The Big Issue.
This year's calendar celebrates those special communities and bonds that form around a Big Issue vendor's regular selling spot, or pitch. You'll meet Andrew outside his local cafe in Newcastle, Wayne in Brisbane's leafy New Farm Park, Kerry-Anne on Adelaide's famous Rundle Mall, Grant at the Gungahlin shops in Canberra, and Kim and Bill, who both sell near the bustling Fremantle Markets.
Alongside the portraits are cartoons by Andrew Weldon, who's been tickling Big Issue readers with his unique take on the world since our very first edition back in 1996.
Whether you're hanging this calendar in your place, or gifting it to a friend, your purchase has directly made a difference to the person who sold it to you: vendors buy the calendar for $8 and sell it for $20, earning $12 for every copy sold. This is a very welcome income boost to cap off a difficult year.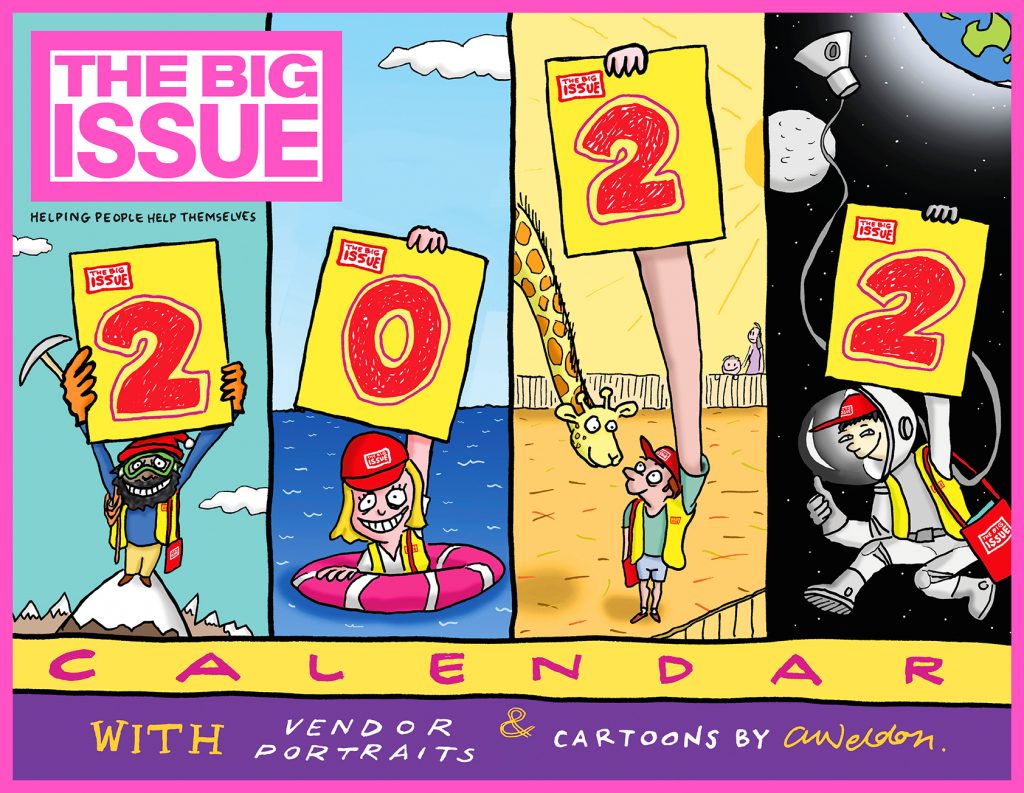 A huge thanks to everyone who's played a part in creating this calendar: Big Issue staff, designers, Andrew Weldon and photographers James Braund, Kylie Kluger, Nat Rogers, Stewart Allen, Simone De Peak and Rohan Thomson. And of course, our vendors – not only the seven people featured across these pages, but also the hundreds of vendors around the country who are working hard day in, day out to improve their own circumstances by selling our magazine.
Finally, a big thanks to you for supporting The Big Issue and our vendors, each and every day of the year.
Amy Hetherington, The Big Issue Editor.
Photo of Amy and Gamal by James Braund.
The best way to buy our calendar is from your local vendor. If there are no vendors near you, that's okay, you can continue to support them by buying The Big Issue Calendar online.