Curried sausages are a classic family favourite – and definitely a favourite among my kids. Thick rich gravy and delicious vegetables, preferably served with buttery, fluffy mashed potato, just the way Mum made it.
Curried sausages bring back so many memories. Sitting with the cousins, listening to Charlie Pride while eating dinner and being yelled at by my aunty to eat all our food. She slaved over the oven all day to make us dinner.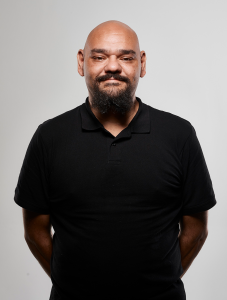 Growing up, it was a staple meal in our household and for all my relatives as well. It's one of those meals many people across our community remember having – and still have regularly. This is one of those recipes that has been handed down through the generations.
This dish consists of beef sausages simmered with onions and vegetables in a mouth-watering gravy made from curry powder and chicken stock. Curry powder is a must for every Indigenous household. It's a popular dinner recipe in Australia and the UK probably because of its milder savoury flavour – it's not a hot curry. Every family has their own level of spiciness and personal touch, whether it's apples or sultanas.
Today my kids enjoy the same recipe I was taught by my uncles and aunties. It's a cheap and simple meal to make, and it's one of those recipes that can be changed up to suit the fussiest eater. A simple way I change it up is to use pork, lamb, chicken or kangaroo sausages instead. And there are many versions of this recipe, where the sausages are boiled or fried in the pan, sliced or whole. This can also be done in a slow cooker, and can be frozen for a later date.
Classic curried sausages is the one meal the community, my family and I always have and always enjoy. I look forward to the day I can make this for my grandchildren.
It doesn't matter where I am in Australia, when this recipe is made it brings together the mob, and mob means home even if I'm not on my own Country.
Curried Sausages
Ingredients
Serves 4-6
 1 large onion
2 apples
¼ cup vegetable oil
8 beef sausages
1 tablespoon Keen's curry powder
1 tablespoon plain flour
2 cups chicken stock
¼ cup raisins
1 cup sliced green beans
2 tablespoons cream
Salt and pepper, to taste
Method
Peel onion and slice.
Peel, core and cut each apple into 8 wedges.
Heat 2 tablespoons of the oil in ya big old favourite saucepan over medium heat. Chuck the sausages in and brown all over, remove and set aside. Slice up the sausages.
Add the remaining oil to the pan and cook onion, stirring for 3 minutes or until slightly softened. Stir in curry powder and flour, mix well. Slowly pour in stock, stirring until sauce boils and thickens. Toss apples, raisins and sausages into the pan and bring to the boil. Lower heat and simmer for 15-20 minutes.
Stir in beans and cream, cook for 5 minutes. Season to taste with salt and black pepper.
Kooking With A Koori by Nathan Lyons is out now.
Plan to recreate this dish at home? Tag us with your creation! @BigIssueAustralia #TastesLikeHome