Since I was a kid I've always fantasised that my home would be an open and welcoming place. I love the idea that a person can just drop in and someone will be here, smiling and offering a chair and something to eat.
Whenever we have a barbeque at our house, I like to invite extra people over. The casualness of cooking outside makes people relax, and if someone new is feeling a bit shy, they can help out with the cooking. Nothing is too difficult, and no-one is stressed.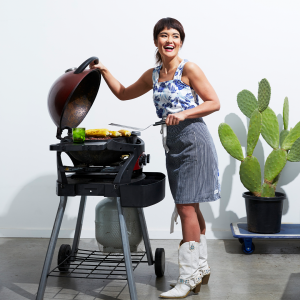 This chicken recipe is on permanent rotation at my house because it's sort of fun. It's easy to make. (And if you look at the ingredients for the spice rub and think, "That's too much!", eliminate the ingredients you don't have. It'll still be fine.) For me the chicken is the perfect show-stopper. It looks faintly ridiculous – you can give the chicken a name and a personality, you can imagine what sort of bar it's sitting at, perched on its cider can barstool. It is, yes, all kinds of silly.
In fact, cooking at home should never be stressful! What I've found in the writing and research of my two cookbooks is that there is actually a HUGE gap between what so-called "celebrity chefs" are telling us to make and what the busy home cook is throwing together among work, friends and family commitments. Most of us have far fewer f*cks to give than those show-off chefs! We don't want to add stress to our lives with unrealistic expectations about our cooking! No-one wants fussy food at home. (By the way I love fussy food at a fancy restaurant if I can afford it – but don't ask me to do crazy stuff to food at home, no thank you!)
But when you eat it? That's when the real smiles break out. There is an alchemy when you combine cider, garlic, chicken and the char and heat of a good barbeque that will have you making this again and again.
Cider Can Chicken
Ingredients
Serves 4–6
1 x 1.4–1.6kg whole chicken
1 x 375ml can apple cider, room temperature
1 garlic clove, peeled
1 bay leaf
½ teaspoon salt
olive oil spray
For the rub
2 tablespoons olive oil
1 teaspoon paprika
1 tablespoon sumac
1½ tablespoons chicken salt
2 tablespoons dried parsley
½ teaspoon ground black pepper
1 teaspoon chili flakes (optional)
1 teaspoon brown sugar
Method
Mix all the rub ingredients together in a large bowl. Add the chicken to the bowl and use your hands to rub the mixture all over it. Any leftovers can be rubbed into the cavity and under the skin.
Preheat the barbecue to hot.
Gently pour 50ml of cider out of the can. (You won't need this, so it can just go down the sink – or enjoy!) Holding the can over the marinade bowl, add the garlic clove, bay leaf and salt to the can and, if it erupts in a froth, pour any escaped cider back into the can from the bowl.
Shove the can into the cavity of the chicken, working the fit to make a solid base that can support the chook when standing upright. Spray the chicken skin all over with oil, then transfer to the barbecue. Lower the hood and set a timer for 50 minutes.
Once your 50 minutes are up, check to see if your chicken is cooked by piercing it with a skewer in the thickest part – if the juices run clear, it's ready (if not, lower the lid and try again in another 5 minutes).
Once it's cooked, allow the chicken to rest sitting upright on its can for 10 minutes before removing from the can and carving. There will be juice left inside the cider can, which you can drizzle over the top, although the full amount is probably too much. Serve with a simple salad, some barbecued sweet corn and bread.
Hint!
While you can use non-alcoholic apple cider in this recipe, I have found the alcoholic cans tend to be short and fat, and therefore fit better. (Plus, the alcohol in the cider evaporates during cooking, making it safe for kids and non-drinkers in any case.)
If you want, you can massage the rub into the chicken the day before and leave it uncovered in the fridge to both marinate and dry out.
It's tempting to keep checking but try to avoid raising the hood of the barbecue to look at your chook. Remember that the chicken is cooking from the heat that's trapped inside the barbecue and you'll be letting that out.
Zero F*cks Cooking: Endless Summer by Yumi Stynes is out now.
This article first appeared in The Big Issue Ed#577.