Growing up, Grandmère's go‑to dish for our huge Chinese-Mauritian family was her wonton soup. It played a critical role in satisfying our bellies at almost every family occasion – and on a normal weeknight, too.
My variation on this hawker delight uses pork mince in the wontons instead of the typical pork and prawn combo – just how Grandmère taught us as kids around her dining table. So it goes without saying, I carry this recipe with me proudly everywhere I go. I mean who doesn't love a hot bowl of soup with delicious dumplings? It is warming for the soul and as simple as it is, every mouthful reminds me of home.
If you've had this dish before at a Chinese restaurant, you may have enjoyed it served with egg noodles and some leafy greens, and that's exactly how we serve it in my family too. It's simple, tasty and what really makes this recipe a winner is how easy the wontons are to make, so it's probably a good one for beginners when it comes to the world of dumplings.
Lastly, and most importantly, this dish is best shared with those around you. The memories I have made over this humble bowl of goodness have been some of the fondest, and I guarantee as you share this with others, yours will be just as special too.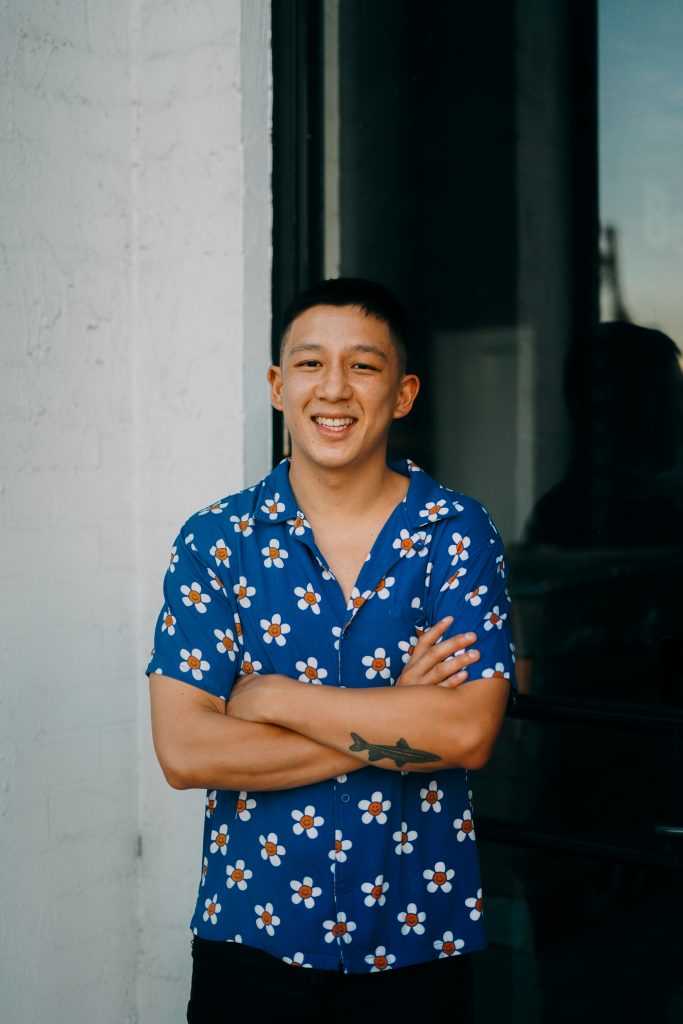 Ingredients
Serves 4
24 wonton wrappers
Spring onion, sliced, to serve
A bunch of bok choy, trimmed
200g egg noodles
Pork bone broth
2 tablespoons vegetable oil
1kg pork chuck bones
40g ginger, sliced
6 cups of cold water
1 teaspoon dried shrimp, rinsed
Salt, to taste
Wontons
300g pork mince
1 tablespoon thinly sliced spring onion
1. teaspoons finely diced ginger
1 tablespoon oyster sauce
1 teaspoon Shaoxing wine
1 teaspoon light soy sauce
1/4 teaspoon sesame oil
Method
To make the pork bone broth, heat oil in a large pot over high heat.
Add the pork bones and half of the sliced ginger to brown. Stir and cook for about 6 minutes.
Add water, remaining sliced ginger and dried shrimp. Bring to a boil then reduce to low and skim any impurities that rise to the surface. Leave to simmer for 3-4 hours. Taste and season with salt.
For the wonton filling, place all ingredients into a medium bowl and mix vigorously in one direction until the mixture binds. Cover and leave to rest in the fridge for 30 minutes.
To assemble, place 1 wonton wrapper on a clean surface. Place 1 heaped teaspoon of the mixture in the centre. Brush half of the edges of the square with water. Fold the wet edges over (in half) to make a rectangular shape and enclose the filling. Brush one of the corners with water and fold inward to overlap with the other corner. Press to seal. Repeat using remaining wrappers and pork mixture. Set aside covered with a damp tea towel until required.
Cook wontons in boiling water until cooked through, about 4-6 minutes.
Remove from water using a slotted spoon and divide among serving bowls. If you are using noodles, cook in boiling water for about 3-5 minutes until done, drain and divide among serving bowls.
Cook bok choy in boiling water until just cooked, about 2 minutes.
Remove with a slotted spoon and divide among serving bowls. Ladle the pork bone broth over the wontons, noodles and bok choy, and top with spring onion.
Serve immediately.
This recipe was first published in The Big Issue #636.
This Is a Book About Dumplings by Brendan Pang is out now.
Food photo by Thomas Davidson, portrait by Taje Singh.