The word asam, in any Malaysian dish, refers to the use of tamarind in the recipe, and laksa, noodles served with a spicy broth. There's no dish that makes my palate jig more.
For me, asam laksa truly captures the dynamism of Nyonya/Peranakan cuisine. There's the complex and rich spice paste that forms the flavour nucleus of so many Malaysian dishes, then the expert balance of push-pull, sweet, spicy, salty and sour, distilled for eons from generations of handed-down knowledge. Submerged in all this excitement are lai fun, or thick rice noodles, although I often use tapioca noodles because I love the bouncy mouthfeel.
Asam laksa is much quicker than a curry laksa because the rempah isn't first caramelised in oil, but stirred into a simmering fish stock. It makes for a soup with a cleaner, broth-like quality, rather than its richer counterparts, which usually involve coconut.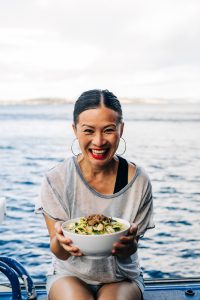 My first encounter with this dish was many moons ago when I was about six years old. Mum would take me on a weekly shopping excursion to a local shopping centre, and after we would rest our feet at a cafe serving asam laksa. At first, I would only have small slurps of Mum's because it was far too spicy for a six-year-old. I would be gasping and sweating, but aware that stoicism was key. I quickly grew addicted to the challenge. As months passed, I could endure through half a bowl, then eventually I graduated to big girl territory and was able to have a full serve on my own. I remember feeling victorious – getting your chilli wings is a proper coming-of-age thing in Asian cultures! Afterwards, we would have an ice kachang (a shaved ice dessert) to calm our fiery mouths.
Whenever I get asked what my last supper would be, I always say asam laksa. It's a dish I've avoided learning to make all these years for fear that the magic of it might evaporate in my hands. It's nice to play helpless child and have those dishes you return home for, isn't it? Even when you've learned how, it always tastes better when Mum makes it!
Asam (Penang) Laksa
Ingredients
Serves 5-6
2 litres water
½ cup ikan bilis
500g snapper, brim or trevally fillet
4 lemongrass, halved and flattened with a pestle on a chopping board
2 bunches Vietnamese mint (laksa leaf), picked
5-6 tamarind pieces
¼ cup tamarind paste
2 torch ginger, halved lengthways, thinly sliced
2 tablespoons sugar, or to taste
1 teaspoon salt, or to taste
800g fresh mung bean noodles (found in fridge section of Asian grocer)
Rempah
10 dried chillies, covered in boiling water and soaked until soft (about 30 mins)
5 fresh long red chillies, sliced roughly
1 cup roughly chopped shallots
2 garlic cloves, peeled, roughly sliced
5g fresh turmeric
10g galangal, sliced thinly
10g belachan (fermented shrimp paste)\
Garnish
1 red onion, peeled, sliced finely lengthways
2 cups picked fresh mint leaves
2 fresh long red chillies, sliced thinly
1½ cups fresh pineapple batons (3cm x 5mm)
1 cucumber, seeds removed, cut into matchsticks
3 limes, sliced
1 tub har gow (shrimp molasses, found in Asian grocers)
Method
Bring the water and ikan bilis to the boil. Simmer for 10 minutes then poach the fish fillets in it. Remove the fillets, flake the flesh, cover and set aside. Turn the heat off the stock.
To make the rempah, combine all the ingredients, including the chilli-soaking water, in a blender and blitz into a smooth paste. Stir into the stock and bring to the boil with the lemongrass, Vietnamese mint, tamarind pieces and paste, half the torch ginger, sugar and salt. Taste and adjust seasoning if needed. Stir in the flaked fish and simmer for 5 minutes.
Bring 1L of water to boil in a medium pot. Add the noodles and gently agitate to separate the strands. Simmer until the noodles are heated through. Drain the noodles, then divide into 5-6 bowls. Ladle enough soup to cover the noodles, then divide the garnishes evenly over the noodles. To finish, mix a teaspoon of the shrimp molasses into each serve. Serve piping hot.
Poh stars with Adam Liaw in Adam And Poh's Malaysia in Australia on SBS Food.
This article first appeared in The Big Issue Edition #648.
Photo supplied by SBS.