Filling my life with food gets me very excited. Apple pie reminds me of growing up on the family farm and having family gatherings. My Nanna would make the best homemade apple pie, and then my other Granny and I would make a delicious vanilla custard – it was tastebud heaven. I had a special bond with Granny. She would treat me like everyone else; she would always make sure I was the first to help when it was time to do the dishes. I loved being treated just like everyone else. I have cerebral palsy, live in a wheelchair and I have some intellectual disabilities.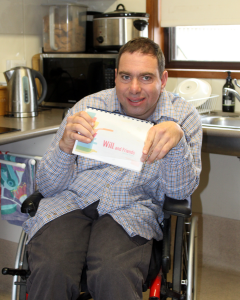 I love looking back at all my wonderful family memories and traditions. Food says community to me because enjoying a great meal is a great way to get together with those who are important to you. It's why I decided to publish my very own cookbook, Will and Friends Assorted Recipes. It is full of recipes I have gathered from friends and family. I have designed my cookbook to be accessible for everyone – it stands up on its own, with easy-to-read recipes while you cook. It was really important that my recipes cater for people with disabilities. I am very passionate about making things inclusive.
I have really enjoyed publishing my cookbook. I have met many wonderful people and love selling it while being a long‑time vendor of The Big Issue. I've been selling The Big Issue on the streets and out front of the local Big W in Wangaratta for over 17 years. I love nothing more than getting out in the community, meeting people and making them smile. It's my absolute dream job and I'm so grateful to have the opportunity to do it.
I always strive to live my life to the fullest and enjoy the great things life has to offer, one of those being amazing food. For me, going out and doing these different things – selling The Big Issue, making my cookbook, getting the support of my carers to help build a small business – gives me a lot of freedom and independence. I really want to be an example to people, to show them that you can build a great life and follow your dreams, even when you have limitations.
Apple Pie
Ingredients
2 cups plain flour
¼ cup icing sugar
185g butter, cubed
2 egg yolks
4-5 green apples, peeled, cored and chopped into chunks
¾ cup caster sugar
½ teaspoon ground cinnamon
2 cloves
1 tablespoon marmalade
30g butter
milk for glazing
extra caster sugar for sprinkling
Method
Grease a 23cm pie dish. Preheat oven to 210°C.
Place flour, icing sugar and butter in a large bowl and, using your fingers, rub in the butter. Add the egg yolks and mix until a dough is formed. Put on a lightly floured bench and push into a ball.
Divide into two portions, one slightly larger than the other. Roll the larger portion between two sheets of baking paper. Cover bottom of the greased pie dish with the rolled-out pastry. Roll out the remaining pastry for the top. Cover both in plastic wrap and refrigerate while making the filling.
Combine the apples, sugar, cinnamon and cloves with two tablespoons of water in a large pan. Cover over low heat and cook until softened, stirring occasionally. Once cooked, pour off any juice and remove cloves. Add marmalade and butter to the pan, mix and cool.
Pour apple mixture into pastry-lined pie dish. Brush pastry rim with a little milk or water, put on the pastry lid and seal together edges with a fork. Slash holes in the lid, brush with milk and sprinkle with caster sugar.
Bake for 10 minutes, then reduce oven temperature to 180°C and bake for a further 30 minutes until golden.
Grab a copy of Will's self-published cookbook Will and Friends Assorted Recipes online.
This article first appeared in The Big Issue Ed#657.